Written by Saran on August 29, 2016, Updated September 1, 2016
There are plenty of Responsive menus on the net, which you can incorporate within your project and make an exciting navigation system. But it's always not easy to achieve desired menu unless you are using some jQuery plugins or one of the CSS framework that comes with inbuilt responsive menu. So today let's create a simple sliding navigation menu which will fit any screen size and also looks great.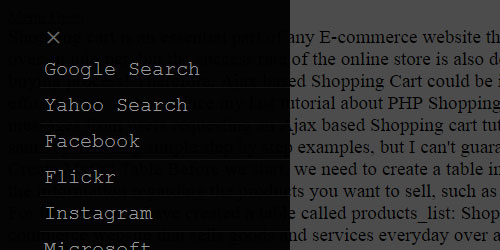 HTML
Let's start by writing the HTML code for the menu. As you can see we have one overly element, a close button and rest are menu links.
CSS Style
I have applied the CSS transition property, which will make our menu sliding smooth. To position the menu bar to right or left of the browser, just change left to right. You must also need to make changes in jQuery code below.
The CSS should work on all modern browsers except IE8 and IE9, but you can always play around until you are satisfied with the look.
jQuery
In jQuery code we simply change the CSS property of the menu using jQuery .CSS(), since we've enabled CSS transition, it should take care of the sliding animation without the help of jQuery.
That's it, we have just created a menu that will fit any screen size. You can copy the code into your project and play.
Open in JSFiddle