Cloud Computing and Future of Ecommerce
Cloud computing, I hope most of you would have been familiar with this term today. It is the latest sensation to join the hit lists in the market. For those who are completely new to this term, here goes the definition: it is a virtual network of servers acting remotely on the internet which allows you to store, manage, and process data effectively.

It implies that your business no more requires a local server for business operations! In fact, it is a significant growth in the field of technology as storing the data in the Internet virtual networks could help businesses of different sectors grow outstandingly.I hope educating you with some benefits of integrating the cloud computing with business could be a great move as it could help you understand the hidden potential of this interesting application. In general, the cloud networks come up with 3 impressive models in the names of — Software as a Service (
SaaS
), Platform as a Service (
PaaS
), and Infrastructure as a Service (
IaaS
). Of them, SaaS is the widely preferred by implemented model so far by most companies. Business benefits of implementing cloud computing into ecommerce industries are stated below. 
Cost-effectiveness:
Well, saving money and time are two essential parameters that play a meaty role in the growth of any business. By implementing cloud-based networks for your business, you could save quite some serious money as it completely rules out the options like purchase costs of hardware, software, and infrastructure. As everything is going to be stored on the Internet space, you don't have worry about investing a lot in saving and safeguarding data. Most businesses have to invest more money on the hardware, software and various factors when their business peak in addition to the payment for bandwidth. However, on cloud-based networks, they just don't require any additional parameters as they are allowed save data on the Internet servers. Imagine the cost saved for your business! Isn't that a boon?
Pliability:
Cloud computing is more pliable as it is open to implementation of new technologies. Even incorporating custom-made applications is never a problem as it cloud networks allow them too! Cloud system is designed and developed with forward-thinking formulas that work better for all kinds of businesses and their enhancements.
Scalability:
Cloud computing offers incredible scalability. For instance, it has been proved that Twitter and Digg both powerful media were down due to extraordinary traffic. The traffic consumed too much of bandwidth which in turn pulled down the performance of the sites. However, the cloud-based networks outstanding massive bandwidth which can withstand traffic of any size. Adding cloud networks helps a great deal in improving your business without any hindrance to the services.
Future of ecommerce with cloud computing: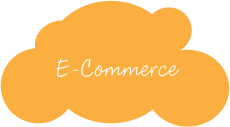 Though it has been predicted that cloud-based networks have the ability to encourage ecommerce industries and more numbers of ecommerce industries will adopt to cloud computing technology, it is quite difficult to come out with a clear solution. Despite the powerful features and benefits, there are still some causes of concern that sideline the implementation of the cloud computing with the ecommerce businesses. Of course, it has been revealed that most cloud networks won't allow some additional functions which could be a real blow to any ecommerce industry. The features of expanding your ecommerce business is so limited which in turn brings down the profits as well as reaching out wide range of customers. However, it is early too early to predict whether ecommerce industry would welcome the idea of implementing the cloud networks to improve business! I hope everyone enjoyed this article and it is useful to many.