Written by Saran on September 11, 2014, Updated December 24, 2015
To simplify things I created a simple Payment System with PayPal REST API in my previous post. But today I want to extend that tutorial making it bit complex and allowing customers to either pay with PayPal payment method or credit cards directly. Yes PayPal allows people to pay for your products directly using credit cards, which requires absolutely no user sign-in or sign-ups with PayPal.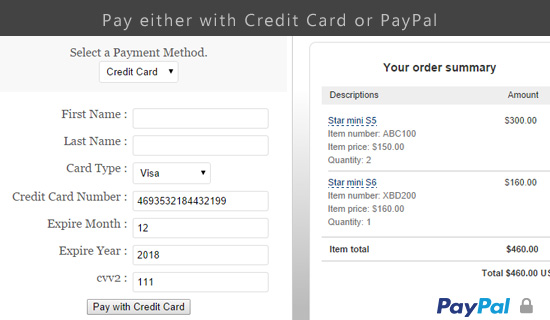 Before we begin get your Client Id and Client Secret from developer.paypal.com account for sandbox testing. Or to sell your products live, you will need Client Id and Client Secret from Paypal.com
In my previous post, I had created four files, but here I've add two more file called payment_option.php and config.php. payment_option.php file allows customer to choose Payment method, which is either PayPal or Credit Card, and you can guess what config.php is all about.
config.php – Stores information needed by the application.
Index.php – (Products page) contains list of products for sale.
Payment_option.php – Allows customer to choose payment method
Order_process.php – Processes PayPal payment.
Functions.inc.php – Helper script, contains functions needed for processing.
Payment_cancel.html – PayPal redirects user to this page in-case of cancellation.
Products Page
Let's talk about product page (Index.php) a bit, as you can see in PHP code below, I have listed the products stored in database, each item contains a quantity field and a checkbox. User selects the item he wants to buy, selects the quantity and these information will be posted to payment_option.php.
Payment Method Selection
When a user is redirected to this page along with item ids and quantity, we need to make sure selected items exist in database, then we can fetch prices and product codes from database and construct a collection of items array in $_SESSION["items"], which we will use in order_process.php.
If everything looks good, it's time to display Payment Option page to user. As you can see I have two HTML forms here, first one is for PayPal Payment method, and second HTML form is for credit card Payment method, it contains all the fields required for credit card information.
You may be wondering, why show two forms to customer? he will get confused! Well the solution is pretty simple, we will just use jQuery here, and we hide/show credit card form when customer selects a payment method. You might want to use some credit card validation script here to make things more solid.
Order Processes
Order process is actually pretty straight forward if you examine the code carefully. I have really tried hard to make it look less complicated, I just hope it doesn't take you too much time to understand the whole process.
Here's the sample flow of order_process.php.
And here's the whole code, just take your time to read each comment line to understand it more clearly.
It may not be necessary, but don't forget to look into functions.inc.php to understand how it uses PayPal SDK to interact to PayPal. I would love to discuss them here, but it will be out of the scope of this tutorial! You can checkout PayPal REST API Reference for the same.